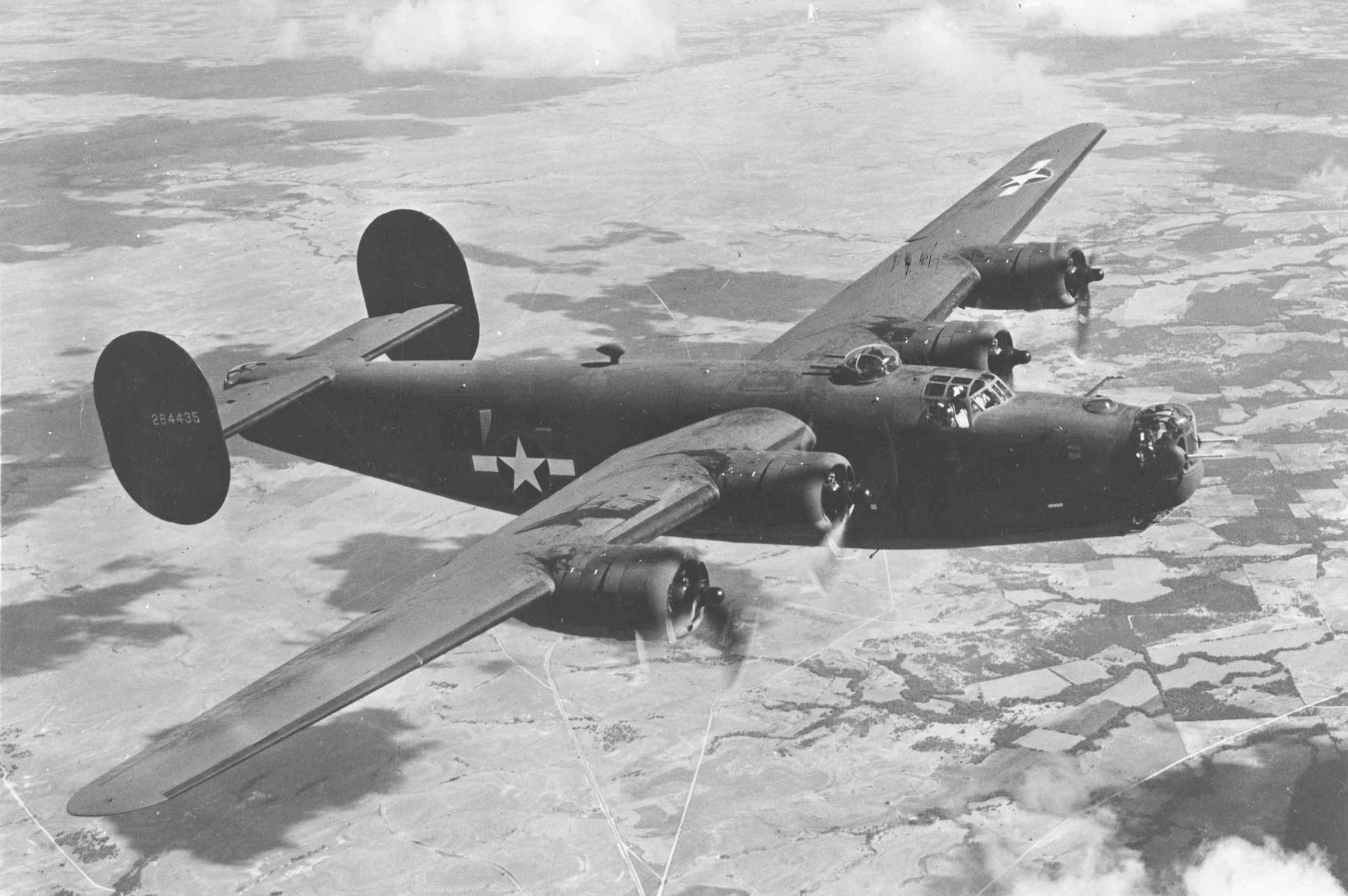 B-24 crash in Santa Catalina Mountains on March 18, 1944

B-24H 41-28874 crash in Catalina Mountains Tucson Arizona on March 18 1944
B-24H was on a flight from Phoenix, Arizona, to MIdland, Texas on March 18, 1944. While traveling southeast from Phoenix, the plane encountered severe weather and attempted to return to Phoenix. According to the AAF mishap report, "there was moderate turbulence, probably hail and icing conditions in the area at the time. Pilot was at too low an altitude and either during or immediately after his turn clipped the left rudder, and probably the underside of the fuselage on a peak, knocking the left rudder completely off the plane...The plane careened on down a canyon finally losing the right wing outer panel, at which time it turned over and struck anther peak with the top of the fuselage.  Check out Warbird Show on iTunes for a podcast I did about this crash.
https://itunes.apple.com/us/podcast/b-24h-41-28874-crash-north/id408763490?i=1000093041740&mt=2
http://itunes.apple.com/us/podcast/warbird-show/id408763490
Fatally injured:
Judson T. Holmes
Randolph Aspinwall
James P. Smith
Merle O. Norlie
Lloyd G. Kadel
William A. Scully
I. Rybinsky

Harlin S. Darby
Howard W. Binne
Charles Bishop
Sole from an airman's shoe. You can still read "U.S. Army on the sole."
Instrument to plug in a flight suit and keep warm.
Portion of one of the rudders.
Remains of bullet proof glass.
While revisitng the crash site several years ago, I came across James Patrick Smith's identification tag (dog tag). The dog tag was returned to a family member.
To the left is a photo of James Patrick Smith, Bombardier, taken on March 17, 1944, photo courtesy Jann James.
Copyright © 2002-2023 Chris McDoniel
All Rights Reserved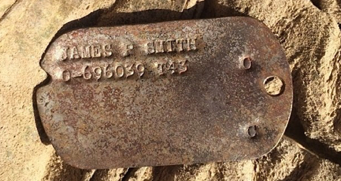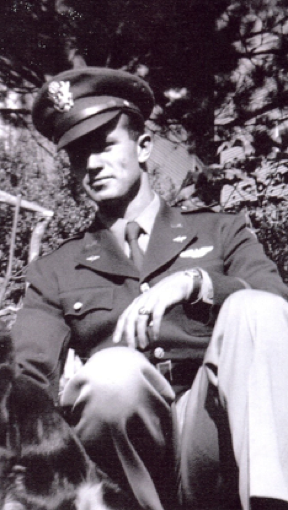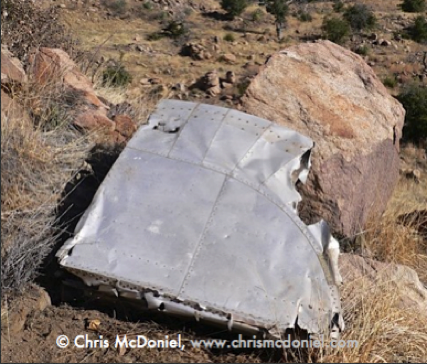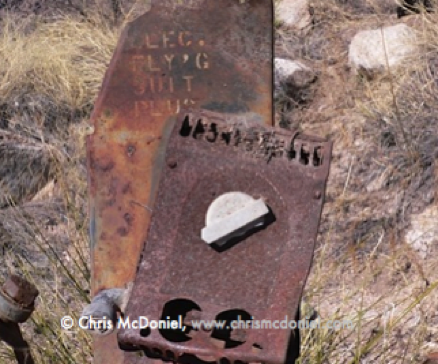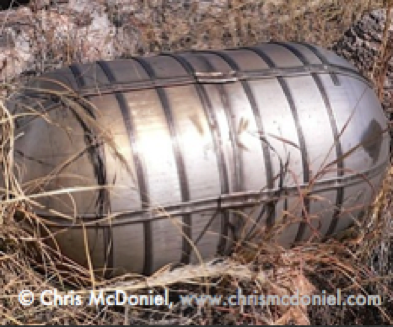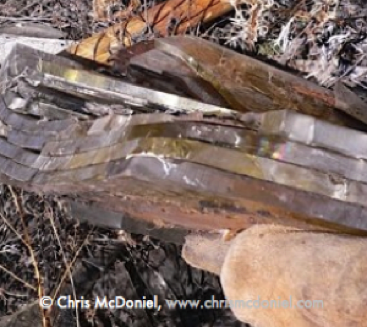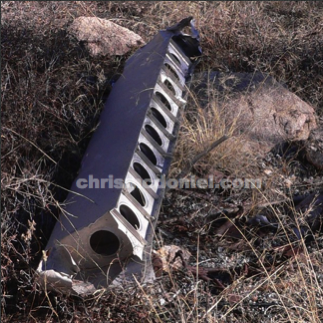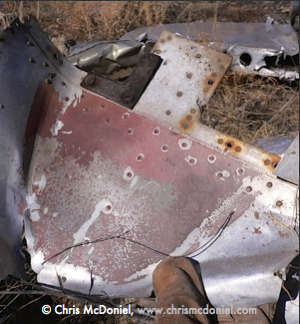 Scattered aluminum remains.
A piece that escaped the smelter.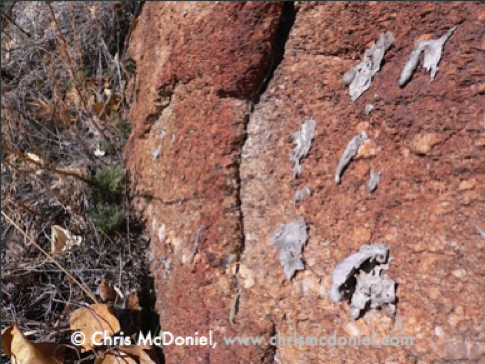 Small pieces of melted aluminum still clinging to a rock where the B-24 burned.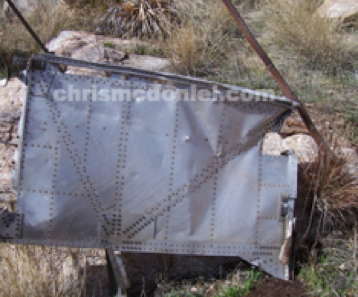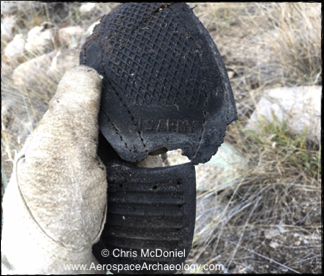 photo courtesy Jann James