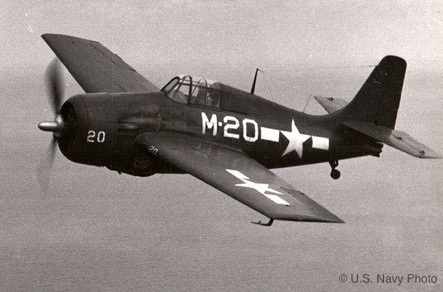 FM-2, 16012, crash near Vail, AZ on January 13, 1944
General Motors Wildcat crash near Vail, AZ on January 13, 1944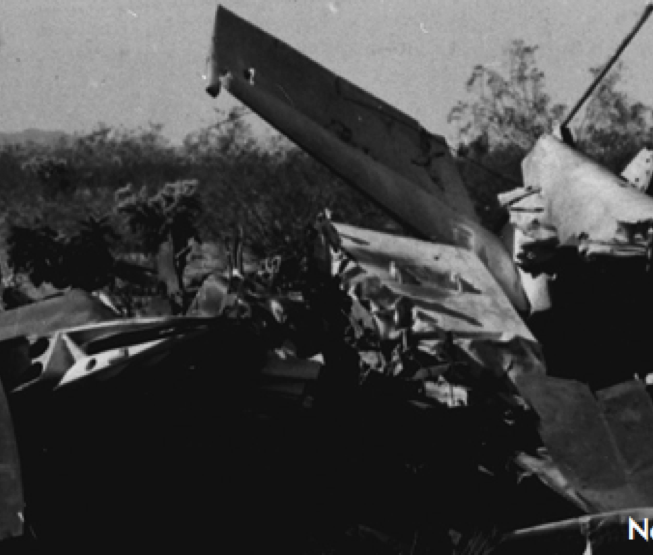 Lieutenant (jg) R.F. Miller was ferrying a General Motors built FM-2 "Wildcat," BuNo 16012, from Big Springs, TX, to San Diego, CA, on January 13, 1944.  Lt. (jg) Miller passed over Vail, AZ, and was preparing to land at the Consolidated airport (now known as Tucson International Airport) when his engine died.  The gauges still showed 25 to 30 gallons of fuel, so Lt. (jg) Miller attempted to restart the engine.  Losing altitude, unable to start the engine, and unable to find a safe place to land, Lt. (jg) Miller successfully bailed out.  After landing in the desert, Miller walked to Esmond Station and contacted authorities. (Remains of Esmond Station can be found SE of the intersection of Rita Rd and Houghton Rd.)
The Aircraft Trouble Report said the cause of the accident was 75% the pilot error and 25% power plant failure/fuel system.  The pilot thought he had fuel, at least according to his gauges, to make the Consolidated airport. In addition, the Navy Board was aware of "obviously deficient fuel gauge" in similar aircraft.  The Trouble Board was aware that several other FM-2s being ferried also ran into fuel problems and were damaged.  Those factors apparently did not matter as Miller was determined to be the cause of the crash.  Miller could have fueled up in El Paso, but according to his gauges and a strong tail wind, he thought he could make it to Tucson. 2022/2023 update: Parking lot built over majority of the crash site.
The top piece has the word "fuse" on it. The other piece reads, "cannon."
Possibly a backplace to an instrument.
Once the pilot successfully bailed out, the FM-2 nose dived into the desert.
Current debris at the crash site is very small. In addition, the crash location is close to a populated area and there is a lot of garbage (old and new) in the area.
Copyright © 2002-2023 Chris McDoniel
All Rights Reserved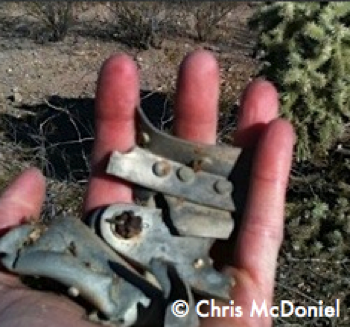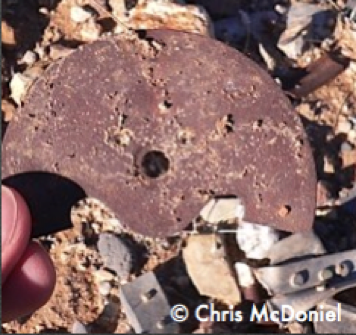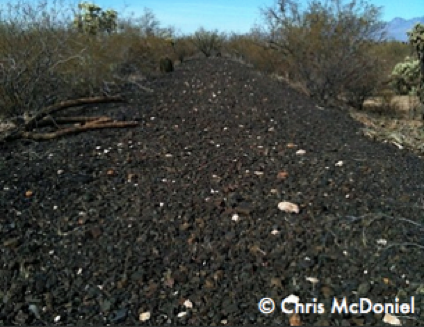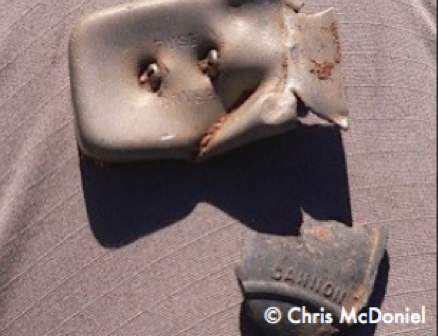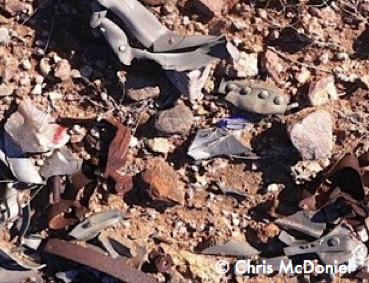 More small remains of the General Motors FM-2.
After the Miller bailed out, he followed railroad tracks to Esmond Station (Papago Station). Esmond was a small railroad station between Tucson and Vail. Once at Esmond Station, Miller contacted the Civilian Aviation Authority to report the crash.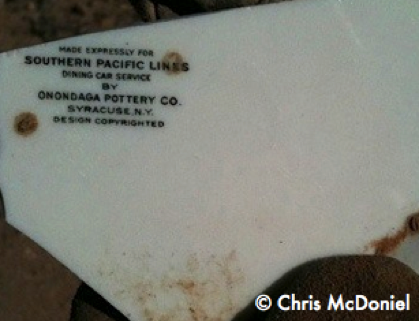 I also walked the old railroad grade to Esmond Station. While walking along the railroad grade, I came across old rusted cans and broken ceramics. This broken piece "made expressly for Southern Pacific Lines Dining Car by Onondga Pottery Co, Syracuse, N.Y." was interesting and had design work on the other side.
Short video I did about the crash.